When I first found out I was pregnant, I was stunned. When I found out, there were two of you growing inside me, I was shocked. But the shock turned to love … and it has never stopped growing.
That sunday before your birth, I thought it was the flu. you would not be joining us for another three months. But almost 2 days later, I could not fathom knowing you would be joining us so early.
It's kinda funny. The doctor said you caused my labor. I knew right then you were my trouble maker.
When your sac would not break (and when it did proceeded to drench almost every single person in the room), I knew you were my stubborn one.
When you held onto me so tightly that first day, I knew you would be my cuddler.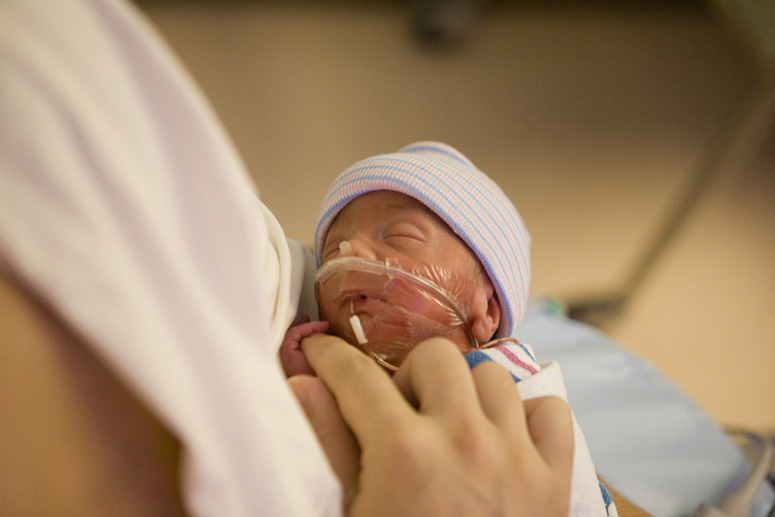 When you turned blue so many times I lost count those first few weeks, i knew you were my fighter.
When we had to leave you behind, I knew you'd be the loner.  But I don't take loner to be a bad thing my little baby.
You my sweet Asher are so different than your siblings.  Besides the light hair and fair skin, you have a hot temper with a love for biting and screaming.  But within seconds, you turn into the sweetest boy.  You cuddle with me, hug me and love me like no other.  You can eat a plate of Brussel Sprouts in a matter of minutes.  You ask for 'plants' when we go out to lunch (AKA a berry + spinach salad) rather than getting the same as your brother + sister – Mac + Cheese.  You would sleep for hours if it wasn't for your brother.  You are the only one to suck their thumb.  You are the only one to have a blankie.  You do it all at your own pace.  I can't imagine my sweet Linus what life would be like without you.

I knew you would find your unique place within our family.  You are so protective of every member of our family.  You have no problems telling anyone who gets to close to 'go away.'  You are my cuddler, my sweet one, my screamer, my biter, my thumb sucker, my fighter, my loner, my sweet sweet asher.
You will soon be three.  Three years ago on a cold rainy November morning when you came into the world.  Every day since, you have brought sunshine into my life. Whenever you scream 'I love you' I melt inside.  Know I love you too.
______________________________________________________________________________________
Please continue through this blog circle to read more Letters to Our Sons from some of the most amazing women I have grown to know, respect + love. Starting with fellow CMmentor, Amy Lucy Lockheart | Minneapolis Photographer … every time I visit her site, I am amazed at how fabulous she is. Head on over there to see.