Day 1 // Dinner … or Hell?
First night's dinner was eh.  The decor of the place was a 1980's miami beach house … and this was a NEW ship.  Huh?  Disney described the enchanted garden as luxurious gardens of Versailles … I say it's my grandma's 1980's beach house tacky furniture.
Ever try to keep your kids up with no nap for a 4-course dinner where the waiter (even though it's a disney cruise … disney mind you…) has no clue what it's like to have toddlers.  No, I don't need you to take our drink order.  No, I don't want to hear the specials.  I just need my kids meals.  Sorry.  And then, next thing you know, your kids have their meals … during our first course (YES!).  But we all order only ONE other course besides the main one + ask they all come out at once … but they are staggered causing an hour between the first dish + the third dish.  The next problem was, it was over 45 minutes between our salad course + the main course.  So, my mom had to leave the meal (at her insistence, not mine) to tend to my kids … can you say saint?  And the waiter thought it was the crappy meal?  No, it's the time between servings… you did serve the family next to mine + my meal at the same time … and they came in a good half hour AFTER us… oh, but me, complain?  How much time was our total meal?
The assistant server rocked though.  She got all my kiddies bibs + got them whatever they wanted.  Lily was the prima donna … and loved the attention.  But i'm sorry that I'm complaining.  We were all cranky + tired + miserable.
Boden loved the mac + cheese.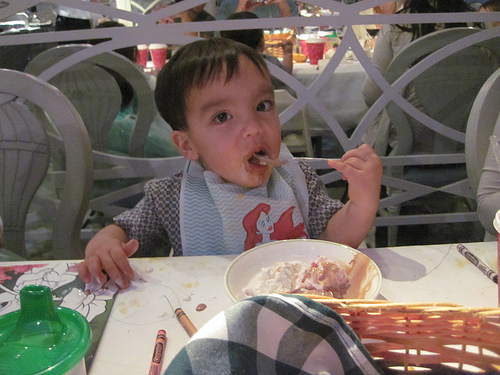 Asher housed the ice cream.
Day 2 // Breakfast – Buffet Style
Oh lordy.  Cruising may not be for me.  Crazy people scrambling to pile food onto the 5 plates they are carrying.  Running to get a seat at a table.  Yeah.  Not my style.  But Lily + I had to eat since my parents had eaten at the sit-down one earlier while we met the princesses.  So here we are … getting a nice sized portion of food.  You can always get seconds so why body check someone to fill your plate the first time, right?
The breakfast of a little girl – bacon + a chocolate donut.  She was not a fan of the Mickey waffles though.
You can't beat the view though.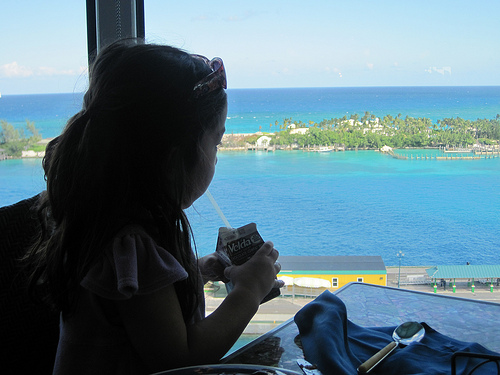 Then we were off.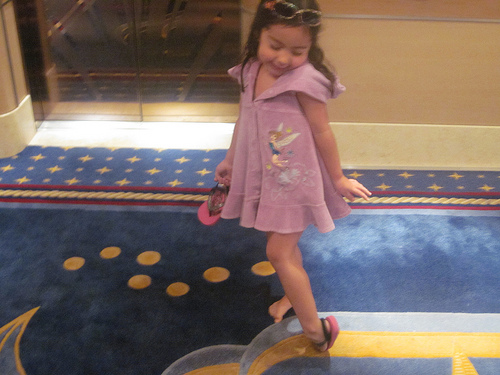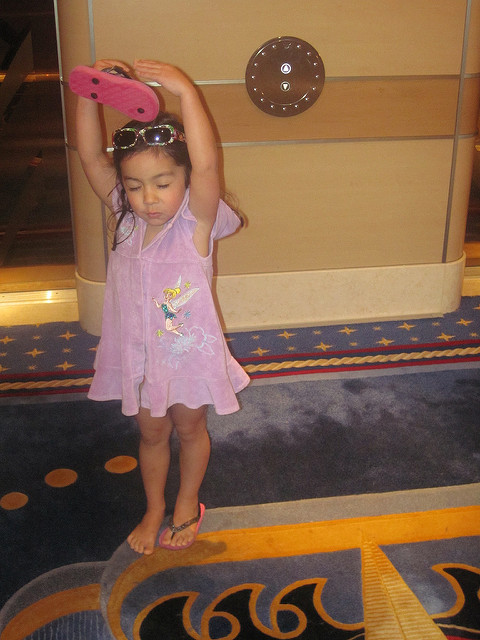 See you at the pool.
Day 2 // The Princesses Meet
Lily + I woke up to find that the PRINCESSES would be here.  All at once.  In one big line.  I haven't developed my mkii photos … so the few I have are from my p+s.
We waited in line for 20 minutes.  I laughed that I stepped out of line for literally one second to see my dad (about 20 feet away) while Lily waited in line + some man pushed his daughter ahead of Lily (and the line wasn't moving).  People are so darn cut throat on this boat – whether it be for food, pool chairs and now the princesses.  Whatever.
Lily … poor Lily.  She was so freakin' excited + kept crying for her turn all the while holding herself b/c she had to pee.  But we couldn't leave the line b/c it was just us 2 … the rest of the gang was at breakfast.
And while she ran to all the other princesses, the look of amazement, astonishment and pure joy when she met her idol (notice the matching dresses) brought tears to my eyes.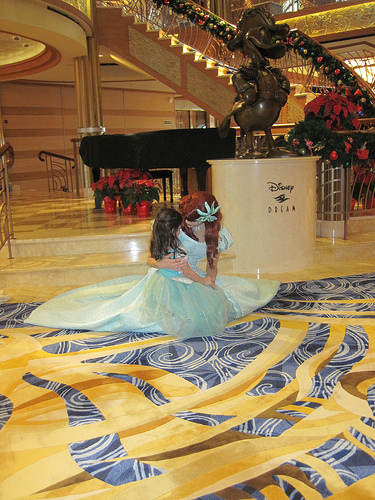 I loved that they didn't rush you along.  Lily talked to her for a good 5 minutes.  She told her everything.  They were best friends according to Lily.
Oh, and then by this time, everyone was done breakfast … complete + messy … and who do we see off to the side?  Pinnochio.  now for those that have ever been to Disney, you notice each character has an 'escort' of sort … to keep people in line + basically in check.  I always wondered who would try to harm a Disney character.  Um, yeah.  This girl right here.  My kid (or shall we say kids).
Boden met Pinnochio.  He screamed no the whole time while taking swats at Pinnochio's leg.  Then Asher decides rather than slap Pinnochio a high five (his hand is out stretched for it), he'd rather just hit him all over.  It was the Pinnochio vs Asher slap fest.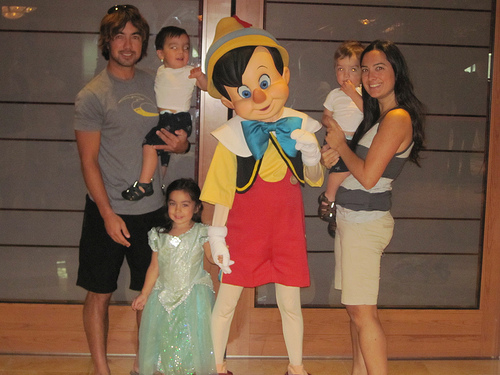 can you see the picture?  boden trying to get a hit?  me holding asher's hand down?  yup.  we beat up pinnochio.
Day 2 // The Pool
One pool.  One pool for a cruise ship of thousands.  No chairs obviously.  They are reserved with towels that people just throw on them + leave.  Whatever.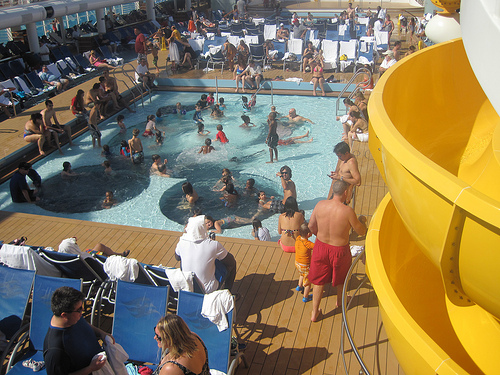 But my kiddies love love love the water … so we will be hitting it up.  We won't discuss nemo's area vs the kid pool.  And we won't discuss the swim diapers.  We can chat later about that. oh, but back to the pool.
For a point, while Ken + Lily + Asher hit up the pool, Boden was content to watch Nemo on the big movie screen at the pool.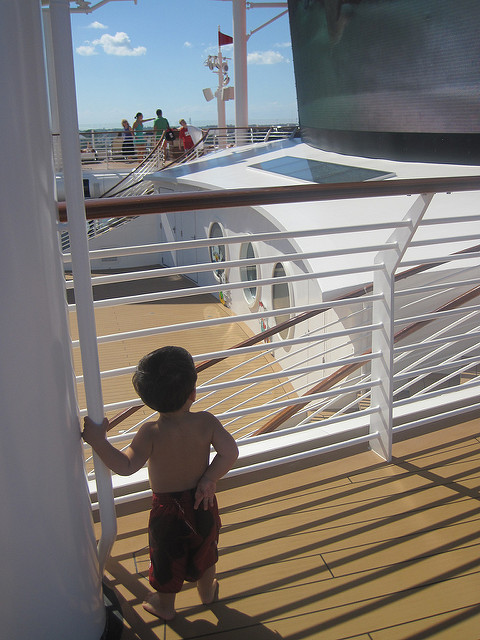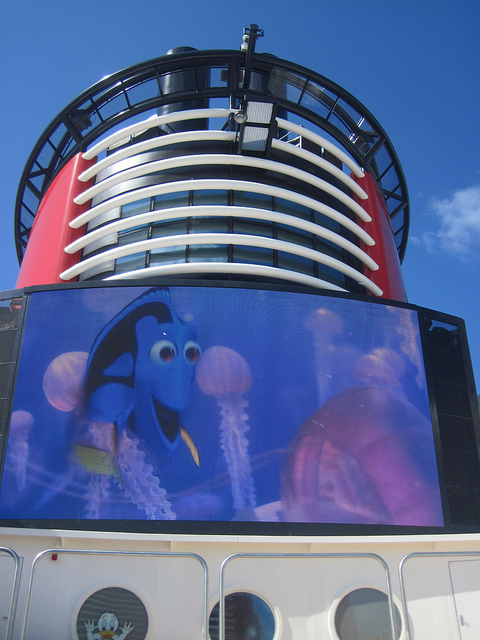 We had to watch it from the balcony b/c of the chairs were taken by towels + belongings … not people.  I wish for ONCE, a place could enforce the 'don't leave your belongings' on a chair + leave rule.  Seriously.  I timed it.  Some chairs had towels in the same position in the AM … and at dinner time were still there… claiming an empty chair.
But eventually he grew tired of it + we ventured to the pool.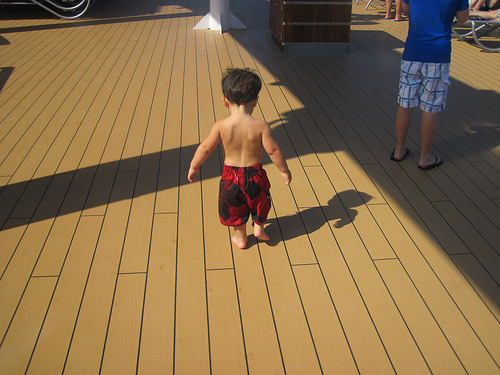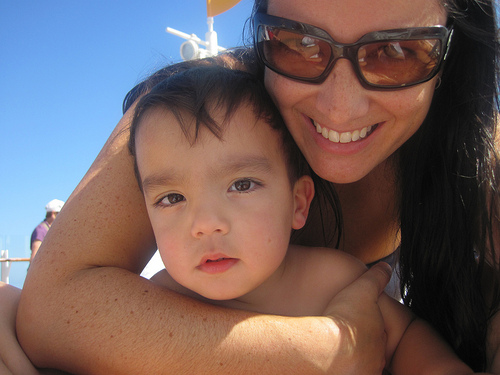 We met up with Ken + had a blast.  Having a waterproof camera is seriously the BEST.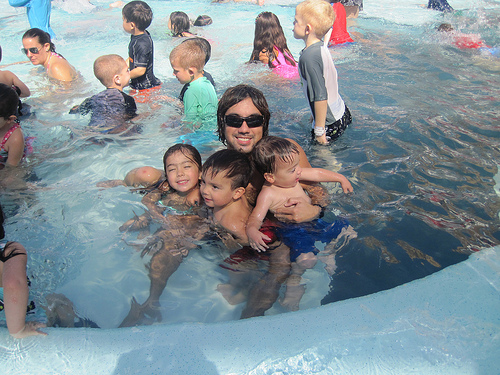 Asher was a swimming machine.  He had no problems going under for long periods of time.  My heart on the other hand raced everytime he went under for too long.
We stopped for some hugs.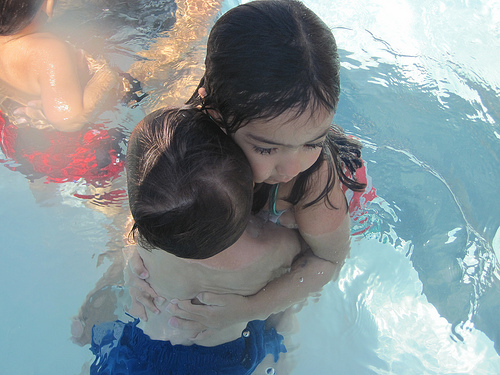 Took some underwater photos.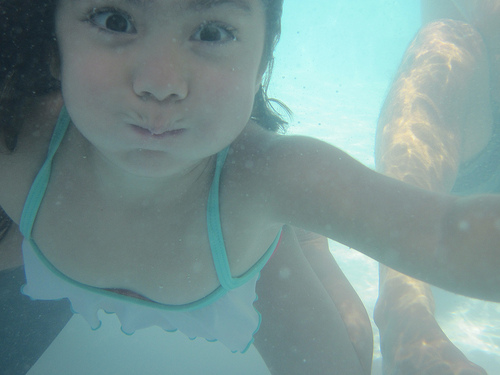 Just chilled.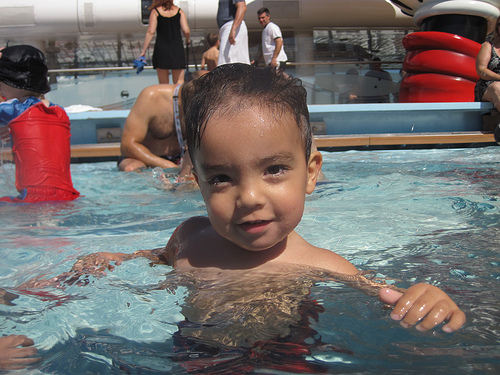 Had some mommy time.
Jumped off the edge.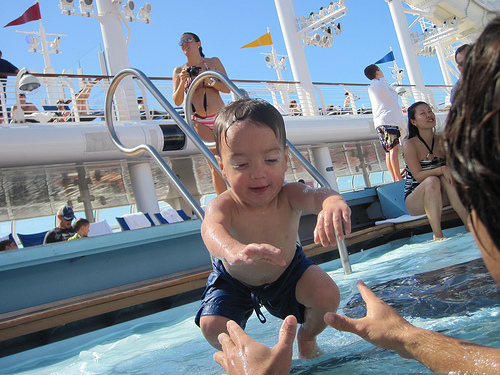 Hit up the water slide.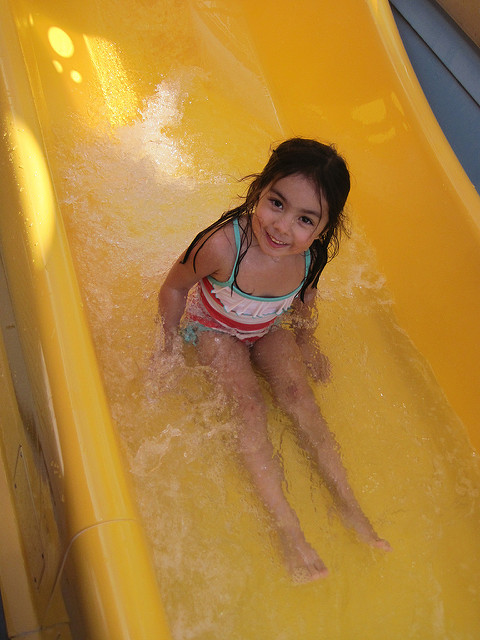 And captured sibling fun.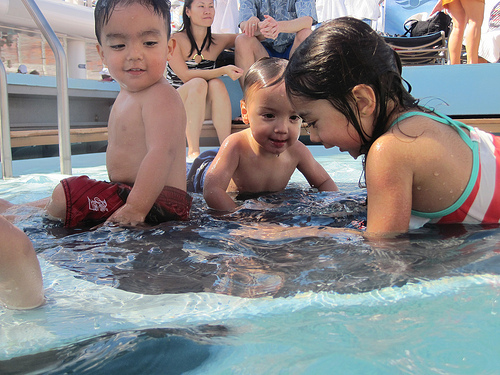 Day 2 // Explore Nassau
Ken really did not want to use the babysitting services.  He said what did that say about us as parents but oh lord, no strollers + nassau … didn't seem like a fun time IMO.  So we went to the babysitting services and oh my, it was booked like for most of the day (and night).  They were able to squeeze the boys in + we left them.  And they had fun.  It's an awesome place.  They even feed them at dinner if need be + will roll out a crib (which sher used many times) if they need to nap.  Next, we dropped off Lily + we were off for a day of sightseeing.  But Nassau is boring IMO.  Gosh, I'm using IMO alot today.  Basically one street of markets + one street of stores.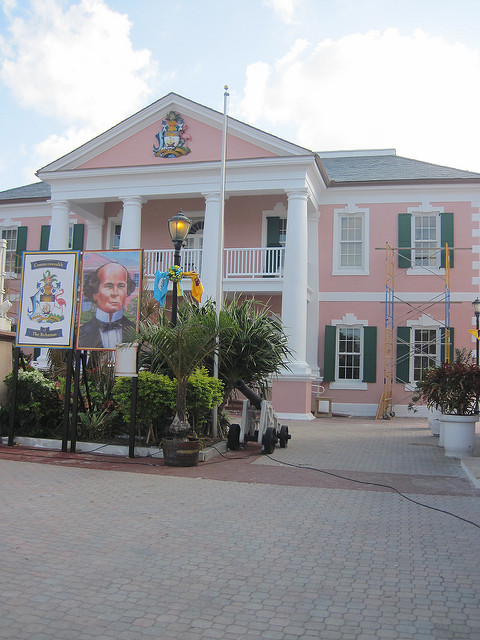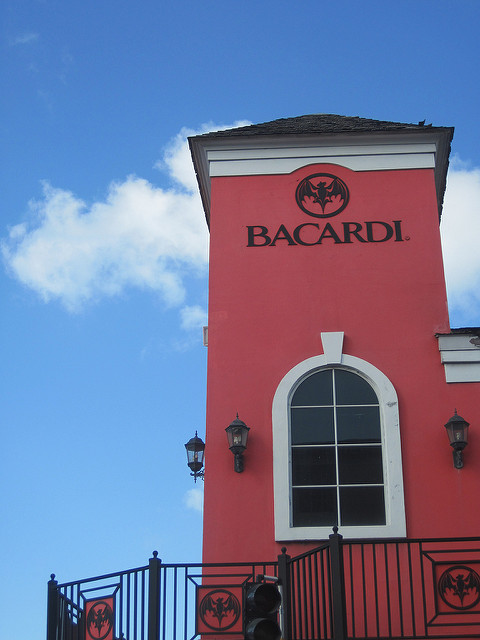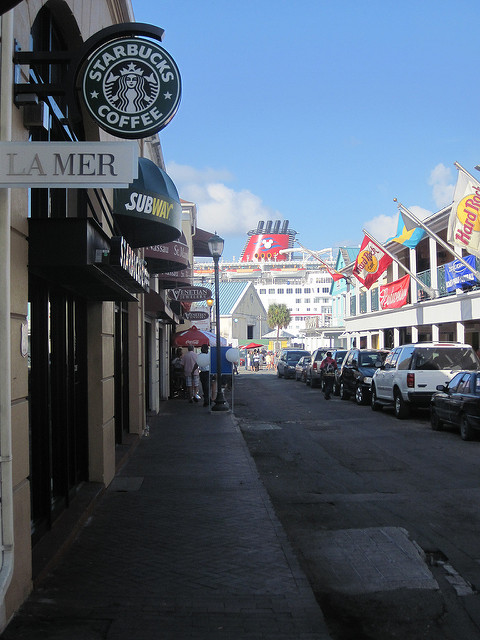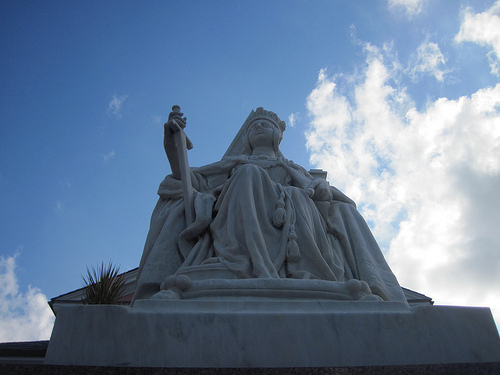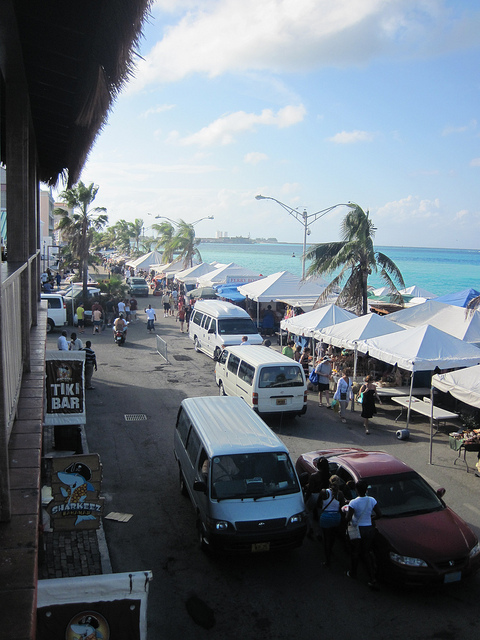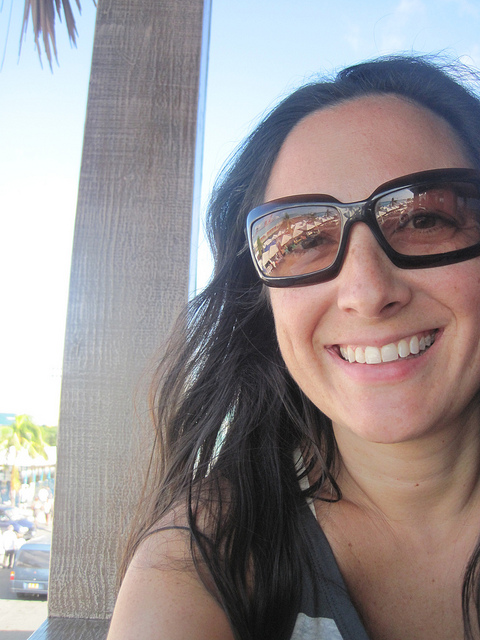 Day 3 // Castaway Cove
Oh Disney. When you do an island, you do it right. Rather than take the tram, we took the scenic route + met some characters. Some of us were skeptical. some of us were not.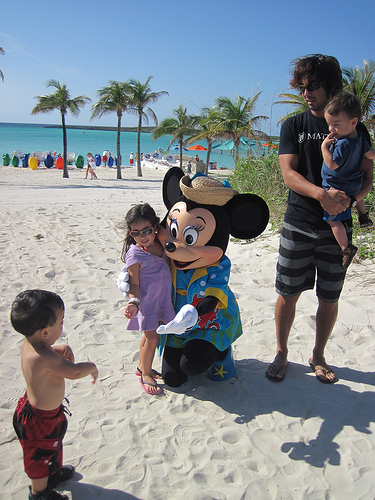 lickr.com/6037/6351543803_20922de4b2.jpg" alt="" />
and some more hugs.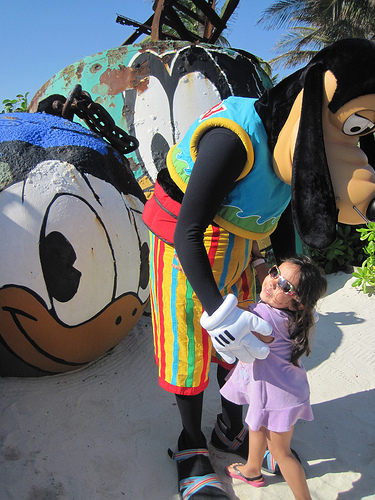 52286916_47ff41fbbd.jpg" alt="" />
and man, was it cold … but fun to splash around.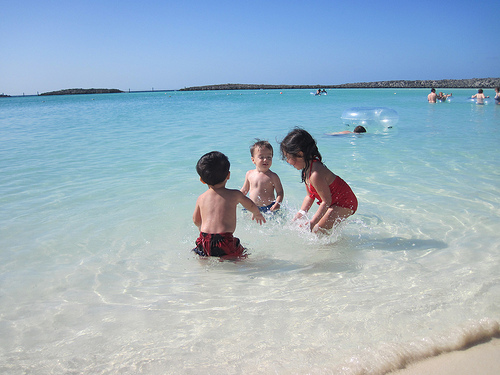 238/6352288092_e3fe2ce53f.jpg" alt="" />
except for one.
but eventually even he got cold.
oh man we had fun.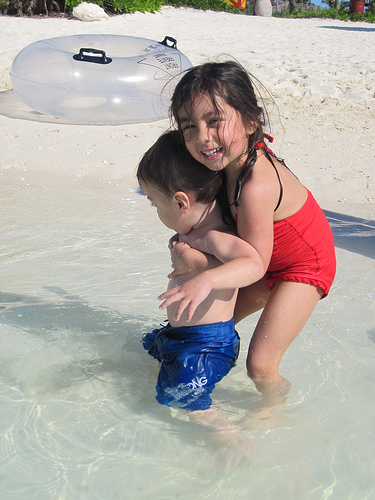 but poor daddy couldn't abandon his lifeguard roots. so he kept guard.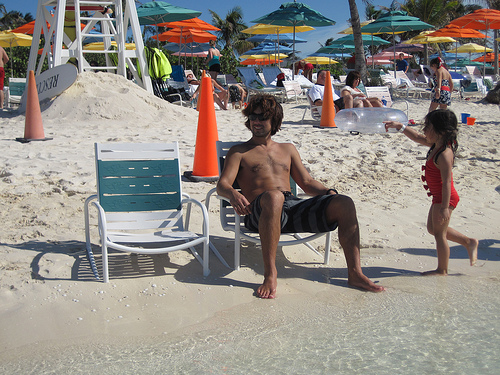 then, miss lily decided to trek over to the kids club. and on the way back, we noticed these wagons. we asked + found out they could be used! so we packed in the twins + within seconds. we found …
asher down for the count.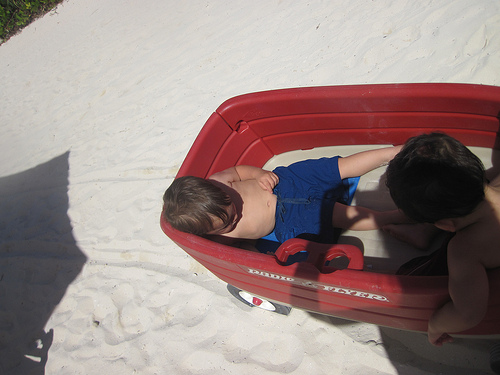 and boden too (and yes, that is a shot bubble coming out of his nose.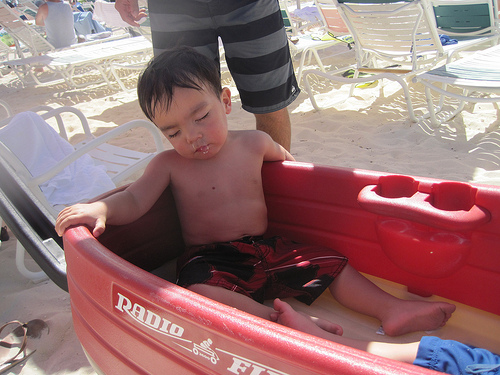 we transferred them to the chair … and they became the talk of the beach we were on.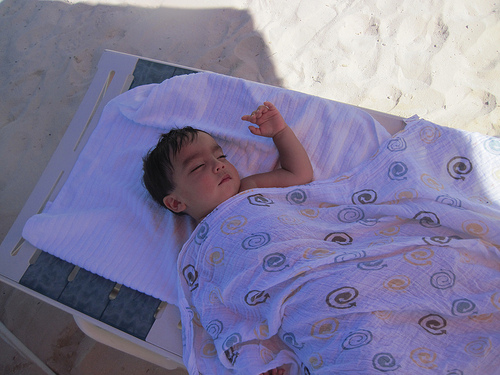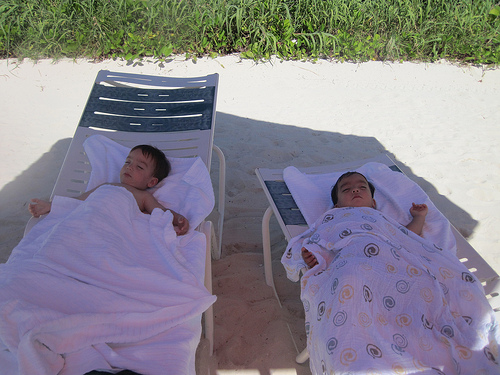 but then our time was done.
and back to the boat we went.
Now the nitty gritty. The food was eh. barbecue. The boys loved the pineapple. Lily loved the ice cream. I loved the drinks. Enough said.